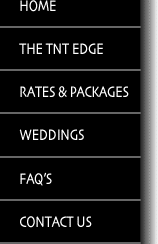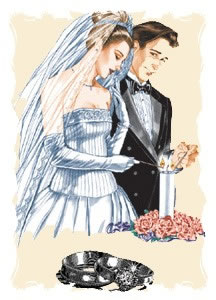 716-480-7608

Email- wyrkrandy@gmail.com

T.N.T. Sound Systems has been providing exceptional musical entertainment for wedding receptions for more than 20 years:

Your DJ and Emcee team will arrive approximately 30 minutes prior to their start time in full tuxedo (unless otherwise specified by you)

As the DJ keeps the music playing, the Emcee will handle the following reception activities so you can relax and enjoy your special evening:

Typically the sound system is booked for 5-6 hours and includes:

• Pre-Dinner cocktail hour music (light and upbeat)

• Introduction of the Bridal Party upon arrival

• Announce the Best Man's toast just prior to dinner

• Dinner music (light vocals and popular standards)

• Announce the cutting of the cake

• 3-4 hours of dance music

• Announce and coordinate the Garter and Bouquet Ceremony


• And any other events taking place like the anniversary dance or
acknowledging any special people (.Candle ceremony, balloon launch,etc.)


Your DJ will keep the music going with no breaks other than to announce or coordinate the evenings events, and even then we usually have an appropriate song to play to complement the activity.

Your Emcee will interact with your guests as they enjoy themselves on the dance floor. We provide quick instruction on such popular dances as the Macarena and Electric Slide. Some of our DJ's can even teach a Country Line Dance or two.

Tell us the top three radio stations you listen too.

You undoubtedly have many questions to ask…..please check out our FAQ's, page for more information. Click Here to Download and Print our most common FAQ's.

If you are a Bride that has contracted TNT services for your reception, please CLICK HERE to download a .pdf file of our RECEPTION AGENDA sheet that will help you and your DJ co-ordinate the events of the function.
Please return a completed copy of this agenda to TNT sound systems at least one month prior to the reception. Thank you!



Below Are Some Popular Songs For Parties And Receptions

Bride and Groom - Bridal Party -

Father and Bride - Mother and Groom - Garter and Bouquet - Top 300 Popular Songs






POPULAR BRIDAL DANCE SONGS


At Last - (Etta James)

Amazed - (Lonestar)

From This Moment - (Shania Twain and Bryan White)

It's Your Love - (Tim McGraw & Faith Hill)

Hero - (Enrique Iglesias)

Could Not Ask For Me - (Edwin McCain)

Cross My Heart - (George Strait)

Come What May - (Ewan McGregor & Nicole Kidman)

Don't Want To Miss A Thing - (Aerosmith) - (Mark Willis country version)

My Best Friend - (Tim McGraw)

Me and You - (Kenny Chesney)

All My Life - (K-Ci & JoJo)

Way You Look Tonight - (Frank Sinatra)

By Your Side - (Sade)

Could Not Ask For More - (Sarah Evans)

Thank You For Loving Me - (Bon Jovi)

Wonderful Tonight - (Eric Clapton)

Spend My Life With You - (Eric Benet & Tamia)

When You Say Nothing At All - (Allison Kraus)

When You Say Nothing At All - (Keith Whitley)

Someone Like You - (Van Morrison)

True Companion - (Marc Cohen)

Keeper of the Stars - (Tracy Byrd)

Love of a Lifetime - (Firehouse)

To Make You Feel My Love - (Garth Brooks)

Can't Help Falling in Love - (Elvis Presley)

I Finally Found Someone - (Barbra Streisand & Bryan Adams)

You're Still The One - (Shania Twain)

Could I Have This Dance - (Anne Murray)

I Knew I Loved You - (Savage Garden)

In Your Eyes - (Peter Gabriel)

It Had To Be You - (Harry Connick Jr)

Truly, Madly, Deeply - (Savage Garden)

When I Said I Do - (Clint Black & Lisa Hartman-Black)

Taking You Home - (Don Henley)

Everything I Do - (Bryan Adams)

This I Promise You - (N Sync)

Endless Love - (Diana Ross & Lionel Richie)

Crush - (Dave Matthews Band)

Love of My Life - (Jim Brickman)

All The Way - (Celine Dion & Frank Sinatra)

I Do, Cherish You - (98 Degrees)

Valentine - (Martina McBride & Jim Brickman)

Somebody - (Depeche Mode)

Unchained Melody - (Righteous Brothers)

You Had Me At Hello - (Kenny Chesney)

What a Wonderful World - (Louis Armstrong)

Have I Told You Lately - (Van Morrison)

Unforgettable - (Nat "King" & Natalie Cole)

You're the Inspiration - (Chicago)

Your Song - (Elton John)

For You - (Kenny Latimore)

Ribbon in the Sky - (Stevie Wonder)

Thank You - (Dido)

You and I - (Eddie Rabbitt & Crystal Gale)

Always & Forever - (Heatwave)

Because You Loved Me - (Celine Dion)

When You Love Someone - (Bryan Adams)

I Swear - (All 4 One)

I Swear - (John Michael Montgomery)

Beautiful in My Eyes - (Joshua Kadison)

Here and Now - (Luther Vandross)

Heaven - (Bryan Adams)

I Will Be Here - (Steve Curtis Chapman)

There You Are - (Martina McBride)

Grow Old Along With Me - (John Lennon) - (Mary Chapin Carpenter country version)

Return to Top


POPULAR BRIDAL PARTY SONGS

Friends In Low Places - (Garth Brooks)

Celebration - (Kool & The Gang)

That's What Friends Are For - (Dionne Warwick)

I Hope You Dance - (LeAnn Womack)

Friends - (Michael W. Smith)

Thank You - (Dido)

All My Life - (K-Ci & JoJo)

You've Got a Friend - (James Taylor)

Hero - (Enrique Iglesias)

In My Life - (The Beatles)

I'll Be There For You - (The Rembrants - Friends Soundtrack)

Because You Loved Me - (Celine Dion)

I Turn to You - (Christina Aguilera)

I'll Be - (edwin mccain)

There You'll Be - (Faith Hill)

You've Got A Friend In Me - (Randy Newman)

Let's Groove Tonight - (Earth Wind and Fire)

Everybody Have Fun Tonight - (Wang Chung)

Sweetest Thing - (U2)

Friends - (Elton John)

A Moment Like This - (Kelly Clarkson)

I Will Be Your Friend - (Amy Grant)

Wind Beneath My Wings - (Bette Midler)

Return to Top



POPULAR FATHER/BRIDE SONGS

Butterfly Kisses - (Bob Carlisle)

You Are So Beautiful - (Joe Cocker)

Daddy's Hands - (Holly Dunn)

Daddy's Little Girl - (Al Martino)

My Special Angel - (Bobby Helms)

Ballarina Girl - (Lionel Ritchie)

Because You Loved Me - (Celine Dion)

There You'll Be - (Faith Hill)

What a Wonderful World - (Louis Armstrong)

The Way You Look Tonight - (Frank Sinatra)

Unforgettable - (Natalie Cole)

My Girl - (Temptations)

A Song For My Daughter - (Ray Allaire)

Landslide - (Fleetwood Mac) - (Dixie Chicks country version)

Through the Years - (Kenny Rogers)

Wind Beneath My Wings - (Bette Midler)

Lullabye - (Billy Joel)

In My Life - (Beatles)

Isn't She Lovely - (Stevie Wonder)

Have I Told You Lately - (Rod Stewart)

Sunrise, Sunset - (Fiddler on the Roof Soundtrack)

I Turn To You - (Christina Aguilera)

Just the Way You Are - (Billy Joel)

Little Miss Magic - (Jimmy Buffett)

Hero - (Maria Carey)

Thank Heaven for Little Girls - (GiGi Soundtrack)

Forever Young - (Rod Stewart)

Times of Your Life - (Paul Anka)

Thank You for Loving Me - (Bon Jovi)

A Whole New World - (Peabo Bryson & Regina Bell )

Could Not Ask For More - (Sarah Evans)

Daddy's Girl - (Peter Cetera)

Turn Around (Where Are You Going, My Little One) - (Nanci Griffith)

You're Still You - (Josh Groban)

Brown Eyed Girl - (Van Morrison)

How Do You Fall In Love - (Alabama)

Father's Eyes - (Amy Grant)

You are the Sunshine of My Life - (Stevie Wonder)

How Much Do You Love Me - (John Berry)

In My Arms - (Mark Wills)

Turn Around - (Kingston Trio)

Turn Around - (Harry Belafonte)

Your Song - (Elton John)

Child of Mine - (Carole King)

I am your Child - (Barry Manilow)

If I Could - (Regina Bell)

She - (Elvis Costello)

Can You Feel the Love Tonight - (Elton John)

You'll be in my heart - (Phil Collins)

Memories - (Elvis Presley)

Tiny Dancer - (Elton John)

Wonderful Tonight - (Eric Clapton)

You Decorated My Life - (Kenny Rogers)

Your a Big Girl Now - (Stylistics)

Here Comes the Sun - (George Harrison)

Stand by Me - (Tempations)

Thank God For Kids - (The Oak Ridge Boys)

Time to Say Goodbye - (Sarah Brightman & Andrea Bocelli)

When you love someone - (Bryan Adams)

Bridge Over Troubled Water - (Simon and Garfunkel)

Butterfly Kisses - (Raybon Brothers)

I Turn To You - (Christina Aguilera)

I Will Be There for You - (Jessica Andrews)

I Wish You Love - (Dean Martin)

Music of my Heart - (Gloria Estefan and N'Sync)

She Walks With Me - (Michael W Smith)

Something in the Way She Moves - (James Taylor)

The Way You Do The Things You Do - (The Temptations)

"A" You're Adorable (The Alphabet Song) - (Perry Como)

My Father's Eyes - (Eric Clapton)

The Long & Winding Road - (The Beatles)

Forever Young - (Alphaville)

May Each Day - (Andy Williams)

You Make Me Feel so Young - (Frank Sinatra)

Then They Do - (Trace Adkins)

Tough Little Boys - (Gary Allan)

Return to Top



POPULAR MOTHER/GROOM SONGS

I Hope You Dance - (Leann Womack)

What a Wonderful World - (Louis Armstrong)

Through the Years - (Kenny Rogers)

Because You Loved Me - (Celine Dion)

In My Life - (Beatles)

Perfect Fan - (Backstreet Boys)

There You'll Be - (Faith Hill)

Wind Beneath My Wings - (Bette Midler)

Have I Told You Lately - (Rod Stewart)

I Am Your Child - (Barry Manilow)

Unforgettable - (Nat "King" & Natalie Cole)

If I Could - (Regina Bell)

The Prayer - (Celine Dion & Andrea Bocelli)

Ever I Saw Your Face - (Roberta Flack)

Sunrise, Sunset - (Fiddler on the Roof Soundtrack)

Child Of Mine - (Carole King)

Blessed - (Elton John)

I Wish You Love - (Natalie Cole)

26 Cents - (The Wilkinsons)

I Will Always Love You - (Whitney Houston)

Forever Young - (Rod Stewart)

Baby Mine - (Bette Midler - Beaches Soundtrack)

Beautiful In My Eyes - (Joshua Kadison)

I Will Remember You - (Sarah McLachlan)

In This Life - (Bette Midler)

You'll Be In My Heart - (Phil Collins)

You're The Inspiration - (Chicago)

Return To Pooh Corner - (kenny Loggins)

Times of Your Life - (Paul Anka)

Blessed - (Christina Aguilera)

Greatest Love of All - (Whitney Houston)

Hero - (Maria Carey)

I Turn to You - (Christina Agueilera)

L-O-V-E - (Nat King Cole)

I'll Be Seeing You - (Frank Sinatra)

I'm Your Angel - (R. Kelly and Celine Dion)

Ice Cream - (Sarah McLachlan)

Sweet Child O' Mine - (Sheryl Crow)

You Light Up My Life - (Debbie Boone)

You've Got a Friend - (James Taylor)

Perfect Fan - (Backstreet Boys)

Forever and Ever, Amen - (Randy Travis)

Beautiful Boy, Darling Boy - (John Lennon)

Then They Do - (Trace Adkins)

Return to Top



POPULAR GARTER AND BOUQUET SONGS


- For The Bouquet Toss -

Going To The Chapel - (Dixie Cups)

Girls Just Wanna Have Fun - (Cindy Lauper)

Any Man Of Mine - (Shania Twain)


- For The Garter Removal By The Groom -

The Stripper - (David Rose Orchrestra)

Legs - (ZZTOP)

Flirtin With Disaster - (Molly Hatchet)

Oh Yeah - (Yello)


- For The Garter Toss -

Just a Gigilo - (David Lee Roth)

Wanderer - (Dion)

Work In Progress - (Alan Jackson)

I'm No Angel - (Allman Brothers)


- For Placing The Garter On Person Who Caught The Bouquet -

Legs - (ZZTop)

Oh Yeah - (Yello)

Stripper - (David Lee Roth)


Note: If there are not going to be a lot of single men and woman at your reception, or if you just don't want to do the traditional Garter and Bouquet Ceremony, a really nice alternative is to give the garter and bouquet to the oldest married couple attending the reception, and then to share a dance with them to a song such as:


Look at us - (Vince Gill)

Through The Years - (Kenny Rogers)

Grow Old With Me - (John Lennon or Mary Chapin Carpenter)

Return to Top


TOP 300 MOST POPULAR SONGS

01 Electric Slide - Marcia Griffith

02 Celebration - Kool & the Gang

03 YMCA - The Village People

04 Mambo #5 - Lou Bega

05 Old time rock and roll - Bob Segar

06 Get the party started - Pink

07 Unchained Melody - Righteous Brothers

08 Amazed - Lonestar

09 You shook me All night long - AC/DC

10 Love Shack - B-52's

11 Brick House - Commodores

12 Brown Eyed Girl - Van Morrison

13 Ride wit me - Nelly

14 Shout - Isley Brothers /Dynatones

15 Play that funky music - Wild Cherry

16 Mony Mony - Billy Idol

17 I'm real - Jennifer Lopez w/ Ja Rule

18 Strokin' - Clarence Carter

19 Who let the dogs out - Baha Men

20 Lady Marmalade - Christina Aguilera, Pink, Mya, Lil' Kim

21 Smooth - Rob Thomas feat. Carlos Santana

22 From this moment - Shania Twain & Bryan White

23 The Twist - Chubby Checker

24 I will survive - Gloria Gaynor

25 Family Affair - Mary J. Blige

26 Dancing Queen - Abba

27 Sandstorm - Darude

28 Crazy - Patsy Cline

29 Stayin' Alive - Bee Gees

30 Twist and shout - Beatles

31 Wild Thing - Tone Loc

32 Thong song - Sisqo

33 Let's Twist Again - Chubby Checker

34 Bye Bye Bye - N'Sync

35 Unforgetable - Nat and Natalie Cole

36 Bootylicious - Destiny's Child

37 The Real Slim Shady - Eminem

38 Wonderful tonight - Eric Clapton

39 Oops, I did it again - Britney Spears

40 Hot Hot Hot - Buster Poindexter

41 Music - Madonna

42 C'mon ride the train - Quad City DJs

43 Rappers Delight - Sugar Hill Gang

44 We like to party - Vengaboys

45 In the mood - Glenn Miller

46 Super Freak - Rick James

47 All for you - Janet Jackson

48 My heart will go on (From Titanic) - Celine Dion

49 Give me some more - Busta Rhymes

50 Grease Mega Mix - John Travolta/Olivia Newton John

51 Baby got back - Six Mix-a-Lot

52 Turn the off the lights - Nelly Furtado

53 Friends in low places - Garth Brooks

54 Jailhouse rock - Elvis Presley

55 Boot scootin' boogie - Brooks and Dunn

56 Chattahoochee - Alan Jackson

57 I wanna talk about me - Toby Keith

58 Jump Jive and Wail - Louie Prima /Brian Setzer Orchestra

59 Play - Jennifer Lopez

60 How you remind me - Nickleback

61 Respect - Aretha Franklin

62 Pop - N'Sync

63 Mustang Sally - Wilson Pickett

64 American Pie - Don McClean

65 Allstar - Smashmouth

66 It's your love - Tim McGraw & Faith Hill

67 Come on Eileen - Dexy's Midnight Runners

68 Soul Man - Blues Brothers

69 Angel - Shaggy

70 Build me a buttercup - Foundations

71 Still the one - Shania Twain

72 Can't help falling in love - Elvis Presley

73 Footloose - Kenny Loggins

74 Moonlight Serenade - Glenn Miller

75 Cha Cha Slide - Mr. Casper

76 Back that thing up - Juvenile

77 Saturday night fever - Bee Gee's

78 Southside - Moby feat. Gwen Stefani

79 Breathe - Faith Hill

80 I love rock and roll - Joan Jett

81 Push it - Salt n Pepa

82 It takes two - Rob Base

83 Tequila - The Champs

84 Behind closed doors - Charlie Rich

85 Dance and shout - Shaggy

86 Man, I feel like a woman - Shania Twain

87 Gonna make you sweat - C+C Music Factory

88 It's raining men - Weather Girls

89 Jumpin' Jumpin' - Destiny's Child

90 The way you look tonight - Frank Sinatra

91 New York New York - Frank Sinatra

92 Better off alone - Alice DeeJay

93 Sweet home Alabama - Lynyrd Skynyrd

94 I swear - John Michael Montgomery

95 Back at one - Bryan McKnight/ Mark Chestnut

96 Cowboy - Kid Rock

97 To be real - Cheryl Lynn

98 Bad Touch - Bloodhound Gang

99 I do (cherish you) - 98 degrees/Mark Wills

100 She bangs - Ricky Martin

101 The Fireman - George Strait

102 The Dance - Garth Brooks

103 Blue - Eiffel 65

104 Kryptonite - 3 Doors Down

105 All my life - K-CI and Jo Jo

106 Cotton Eyed Joe - Rednex

107 I turn to you - Christina Aguilera

108 Hot in herre - Nelly

109 What a wonderful world - Louis Armstrong

110 Born to be wild - Steppenwolf

111 Get down tonight - KC and the Sunshine Band

112 Atomic Dog - George Clinton

113 Last Dance - Donna Summer

114 Big Pimpin - Jay-Z

115 Let me blow your mind - Eve and Gwen Stefani

116 Without me - Eminem

117 You dropped a bomb on me - The Gap Band

118 Hanging by a moment - Lifehouse

119 Da butt - EU

120 Party Train - Gap Band

121 We are family - Sister Sledge

122 Just push play - Aerosmith

123 Do you love me - Contours

124 It's my life - Bon Jovi

125 Don't stop until you get enough - Michael Jackson

126 Boom Boom Boom Boom - Vengaboys

127 I'm from the country - Tracy Byrd

128 There you go - Pink

129 I got you - James Brown

130 I wanna know - Joe

131 It's gonna be me - N'Sync

132 I Swear - All 4 One

133 Conga - Miami Sound Machine

134 Because you loved me - Celine Dion

135 Rock and roll all night - KISS

136 Shackles (Praise You) - Mary Mary

137 Livin' it up - Ja Rule featuring Case

138 Mountain music - Alabama

139 Louie Louie - The Kingsmen

140 Takin' care of business - BTO (Bachman Turner Overdrive)

141 Some kind of wonderful - Grand Funk RR

142 Funky cold medina - Tone Loc

143 Last resort - Papa Roach

144 I cross my heart - George Strait

145 Night Fever - Bee Gees

146 Only you - Platters

147 Baby likes to rock it - The Tractors

148 Chances are - Johnny Mathis

149 Keeper of the stars - Tracy Byrd

150 My Sharona - The Knack

151 Never Been Any Reason - Head East

152 Your Mama Don't Dance - Poison

153 Crazy little thing called love - Dwight Yoakam

154 Get ready for this - 2 Unlimited

155 Rock this town - Stray Cats

156 Sweet Caroline - Neil Diamond

157 Sharp Dressed Man - ZZ Top

158 Squeeze Box - The Who

159 God Must Have spent a little more time On You - N'Sync/Alabama

160 Runaround Sue - Dion

161 Whenever wherever - Shakira

162 Alive - P.O.D

163 Higher - Creed

164 I think I'm in love - Jessica Simpson

165 Let's get it on - Marvin Gay

166 Let it whip - Dazz Band

167 Weapon of choice - Fat Boy Slim

168 Come on over baby - Christina Aguilera

169 Home for a rest - Spirit of the West

170 Back At One - Mark Chestnut

171 No parking on the dance floor - Midnight Star

172 Angel - Aerosmith

173 Can't get enough of your love(babe) - Barry White

174 Faded - Soul Decision

175 Funkytown - Lipps, INC.

176 Everybody have fun tonight - Wang Chung

177 Another one bites the dust - Queen

178 My way - Frank Sinatra

179 I need you - Marc Anthony

180 Rock around the clock - Bill Haley and the Comets

181 Sexual healing - Max-a-Million

182 I try - Marcy Gray

183 The Chicken Dance - Various artists

184 Pretty woman - Roy Orbison

185 Kiss - Prince

186 Follow Me - Uncle Kracker

187 I do - Toya

188 I Do (Cherish You) - Mark Wills

189 We will rock you - Queen

190 Always and forever - Heatwave

191 Fly away - Lenny Kravitz

192 Love of my life - Sammy Kershaw

193 Into the groove - Madonna

194 Hero - Enrique Iglesias

195 Will 2K - Will Smith

196 Crazy - Britney Spears

197 Gettin' jiggy with it - Will Smith

198 Let's get loud - Jennifer Lopez

199 Zoot suit riot - Cherry Poppin' Daddies

200 Leggs - ZZ Top

201 My Girl - Temptations

202 Where's the party at - Jagged Edge featuring Nelly

203 Booty Call - Backstreet Boys

204 Rock and Roll (Part 2) - Gary Glitter

205 Start me up - Rolling Stones

206 You're the first, my last, my everthing - Barry White

207 What's Luv - Fat Joe with Ashanti

208 I'm too sexy - Right Said Fred

209 I'm a slave for you - Britney Spears

210 Hot Stuff - Donna Summer

211 Summer Wind - Frank Sinatra

212 I can't get no satisfaction - Rolling Stones

213 Faithfully - Journey

214 Can't touch this - MC Hammer

215 Walk this way - Run DMC or Aerosmith

216 Maria Maria - Santana

217 Let's Groove - Earth Wind and Fire

218 Hit 'em up style - Blu Cantrell

219 Groovejet - Spiller

220 Hurts so good - John Melloncamp

221 September - EWF (Earth Wind and Fire)

222 Graduation Song - Vitamin C

223 You've lost that lovin' feeling - The Righteous Brothers

224 Survivor - Destiny's Child

225 Limbo Rock - Chubby Checker

226 December, 1963 (Oh What A Night) - The Four Seasons

227 La Bamba - Los Lobos

228 Have I told you lately that I love you - Van Morrison/Rod Stewart

229 Bust a move - Young MC Hammer

230 The Locomotion - Kylie Minogue

231 Desperado - The Eagles

232 Shake it fast - Mystikal

233 Sea Of Love - The Honeydrippers

234 I don't want to miss a thing - Aerosmith/Mark Wills

235 U got it bad - Usher

236 After the lovin' - Englebert Humperdinck

237 Bailamos - Enrique Iglesias

238 To make you feel my love - Garth Brooks

239 One more time - Daft Punk

240 Macarena - Los Del Rio

241 Could I have this dance - Anne Murray

242 Great Balls of Fire - Jerry Lee Lewis

243 Lady In Red - Chris DeBerg

244 Wide open spaces - Dixie Chicks

245 Summer nights - Olivia Newton John & John Travolta

246 Any man of mine - Shania Twain

247 Truly madly deeply - Savage Garden

248 Everything I do - Bryan Adams

249 My eyes don't cry - Stevie Wonder

250 Wind beneath my wings - Bette Midler

251 Through The Years - Kenny Rogers

252 Lady - Modjo

253 Back in black - AC/DC

254 Wooly Bully - Sam the Sham & the Pharohs

255 Bad to the bone - George Thorogood

256 All my ex's live in Texas - George Strait

257 Pacific Coast Party - Smashmouth

258 Rasputin - Boney M

259 Chapel of love - Dixiecups

260 I'm already there - Lonestar

261 I can't help myself - Four Tops

262 Look At Us - Vince Gill

263 You can do it - Ice Cube

264 The Hokey Pokey

265 Sold - John Michael Montgomery

266 Raise up - Peetey Pablo

267 Another night - Real McCoy

268 Hey Baby - DJ Otzi

269 Stand by me - Ben E. King

270 Neon Moon - Brooks N Dunn

271 When You Say Nothing At All - Allison Krauss

272 Good to be alive - DJ Rap

273 When it's over - Sugar Ray

274 Watermelon Crawl - Tracy Byrd

275 Lose yourself - Eminem

276 Miami - Will Smith

277 I see you baby - Groove Amanda

278 Always on time - Ja Rule with Ashanti

279 He stopped lovin' her today - George Jones

280 I will always love you - Whitney Houston

281 Can't get you out of my head - Kylie Minogue

282 It's been awhile - Staind

283 Get your freak on - Missy Elliot

284 Livin' La Vida Loca - Ricky Martin

285 Forever and ever amen - Randy Travis

286 You Are The Sunshine Of My Life - Stevie Wonder

287 Rockin Robin - Bobby Day

288 Make The World Go Away - Eddy Arnold

289 It wasn't me - Shaggy

290 The Devil went down to Georgia - Charlie Daniel's Band

291 One In A Million - Larry Grahm

292 Copacabana - Barry Manilow

293 Only time - Enya

294 Gimme Three Steps - Lynyrd Skynyrd

295 Stairway To Heaven - Led Zeppelin

296 How do I live without you - Tricia Yearwood

297 Men in black - Will Smith

298 The Wanderer - Dion

299 I'm a believer - Smashmouth

300 Paradise by the dashboard lights - Meatloaf

Return to Top

---



Copyright 2005 TNT Sound Systems all rights reserved
No text or images can be used from this site without permission
Site Design by SM Digital Creations ~ 716-254-6130